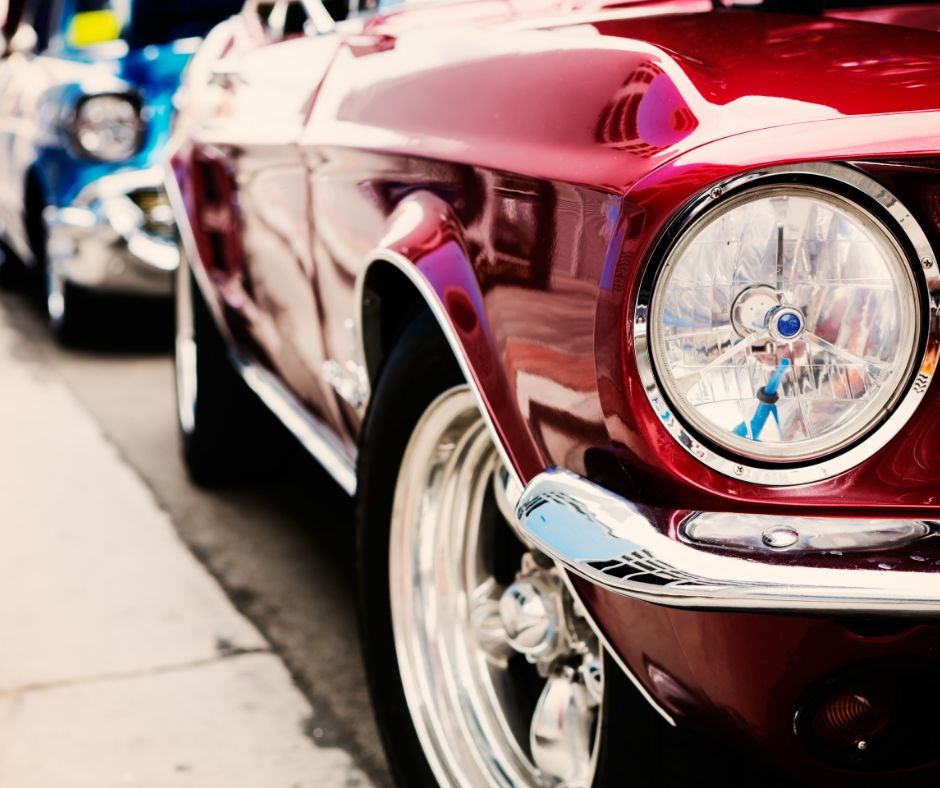 As COVID-19 continues to spread across the globe, everyday life has been affected in unprecedented ways. With several states and cities enacting "stay at home" orders, classic car auto auctions have had to shift the way consumers shop or completely cancel events.
Here is a look at how some of the top U.S. auto auction companies are now operating.
RITCHIE BROS.
Ritchie Bros has implemented an online only protocol to allow auctions to continue from the virtual world. The company sent out the below statement, reading in part.
"With the COVID-19 situation across North America and around the world rapidly evolving, Ritchie Bros. is moving fast to help you as best we can during these challenging times.
In order to help businesses continue to run, while protecting the health and safety of our customers and our employees, all of our auctions are now being conducted online only, and most auction sites are open for inspection but with limited access – please contact your local site for more information."

RM SOTHEBY'S
RM Sotheby has moved auctions online. The company also announced that a portion of profits from the sale of a 2017 Ferrari will be donated to the Feeding America's Covid Response Fund.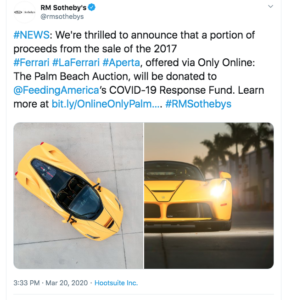 The company posted the below statement online:
"RM Auctions' forthcoming Palm Beach auction, scheduled for 20–21 March at the Palm Beach International Raceway, has been transitioned into an Online Only time-based offering.
The decision to shift this live auction to the company's online platform comes in light of the current guidance from public health officials regarding the global COVID-19 outbreak.
Launched in 2019, the RM Online Only division has demonstrated great success thus far, providing consignors and bidders a platform that allows for faster transactions to take place while still harnessing the level of service and reach associated with the RM Sotheby's brand.
Each car will be presented with comprehensive photography as well as condition reports completed by RM Sotheby's specialists. Where available, additional information on each lot, such as history files, production certificates, restoration documentation, service invoices, owner's manuals, and accompanying parts can be viewed online, once you have created an account and/or you are logged in, by clicking the "View Files" button on the individual lot page."
BARRETT–JACKSON
Barrett Jackson announced it will postpone its annual Palm Beach auction for the first time in 18 years. The auction was scheduled to take place in April. While the company is hoping to reestablish a sense of normalcy as soon as possible, they are taking every precaution.
"This is truly an unprecedented challenge in our country's history, and one we take very seriously," said Steve Davis, president of Barrett-Jackson. "That's why in the coming weeks, we'll continue to work closely with local governments and health officials as we plan for future auctions."
The auction has been rescheduled for October
MECUM AUCTIONS
Mecum Auctions, which also holds online auctions, has canceled all March and April auctions. The following statement was posted online about rescheduling the events. .
"In accordance with the CDC's recommendation to postpone events involving more than 50 people over the next eight weeks, we will be rescheduling our March and April events. The March Gone Farmin' Spring Classic Tractor Auction and the Houston Collector Car Auction in April are in the process of being rescheduled with our venue partners at the Mississippi Valley Fair Center and NRG Park. The new dates for these auctions will be announced as soon as they are finalized."
ONLINE CLASSIC CAR SHOPPING
If you decide to purchase a classic car through an online auction, we're here to help. We offer vehicle purchase inspections through a 3rd party company, as well as escrow services. In addition, we offer global shipping and operate our own packing facilities. Please feel free to reach out for a free quote today.