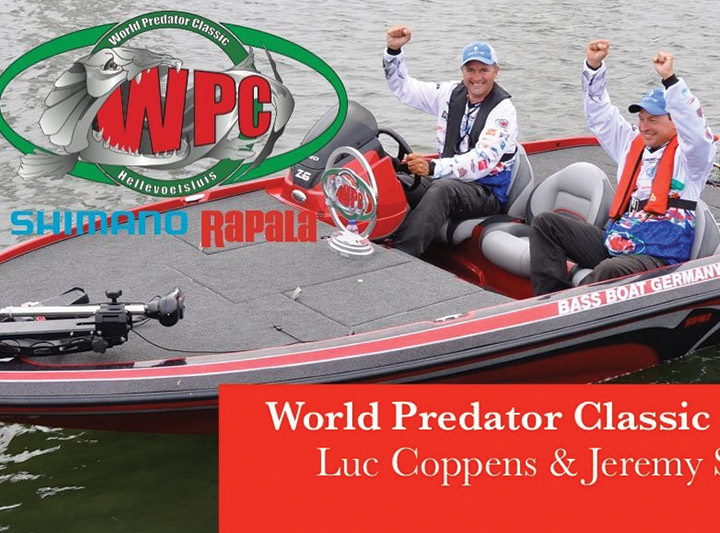 Congratulations to Markku Tiusanen and Antti Anttila of Rapala Team Finland as they claimed the top prize at the third annual World Predator Classic competition held June 25 through July 2 in Hellevoetsluis, the Netherlands. with an impressive overall length of 1,080cm (perch 345cm, zander 545cm and pike 190cm).
Along with bragging rights, each member of Rapala Team Finland received a Tracker Multiliner Trainer, Lowrance HDS Gen 3.9", Jaro Cell lithium power packs, glasses from Wiley X and a year sponsorship agreement, products from Shimano, VMC and Plano. As the Coup De Grâce of the first prize package, the team received a new 2016 Tracker Pro Guide V-175 complete with a Mercury Pro XS115 HP.
Here at Trans Global, we feel like we are winners too as we were given the honor of partnering with WPC and shipping the prize Tracker Pro Guide to the Netherlands. When choosing a shipping partner, WPC16 knew that Trans Global would ensure the prize boat would arrive on schedule as our reputation for going above and beyond to make deadlines precedes us. Boat manufacturers and dealers alike trust Trans Global to ship boats for boat shows throughout the world. Last year alone, we shipped over 150 boats from the US to 3 different international boat shows without missing a date. In one case, through no fault of ours, a boat was left at the port. As a shining example of our commitment, the boat was air lifted at no expense to the customer and arrived on time.
Trans Global Logistics offers shipping services for autos, boats, motorhomes and general shipping services between the US and Europe, the Mediterranean; West and South Africa; the Middle East; Australia; Asia; the Americas and most other worldwide destinations.